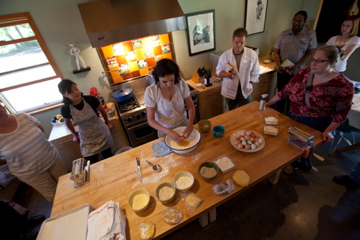 I'm thrilled to introduce a series of classes on what I consider to be the four most important elements of cooking.
I learned how to cook by watching the cooks in the Chez Panisse kitchen, by carefully tasting and training my palate, and eventually by apprenticing and working in that kitchen. That experience blew my mind open, and after several months in the kitchen I started to recognize patterns and rules common to every dish, no matter what the ingredients or particular methods of preparation.
I eventually came to realize that with a careful understanding of how to apply four basic elements, I could make anything taste delicious. Over the past eleven years, everything I've continued to learn in the kitchen has essentially been a refinement of my understanding of the application of salt, acid, fat and heat.
As a teacher of both professional and home cooks, it's my ultimate goal to give people the tools to become intuitive cooks and free them from the reigns of cookbooks, recipes, and measuring implements by helping them refine their palates, sensitivity in the kitchen, and understanding of basic kitchen science. The most important lessons I share with my students are those that impart a fundamental understanding of universal tenets.
I'd like to invite you into the beautiful Soul Food Farm kitchen with me for this unique, empowering series of classes. You're welcome to take as many or few as you like, but the series is designed as an immersion and elements of each class will interplay with the other three to help give students a comprehensive understanding of cooking. In each class, I will describe and demonstrate for each element its roles and functions, basic science, and effects on taste in a dish. We'll taste and discuss thoughtfully in an effort to give our palates a bit of contextual understanding. And of course, because I believe so strongly in the power of experience (and muscle memory) you'll get a chance to put your new skills to use as we all cook a lovely lunch together with the concepts of the day in mind.
In the afternoon, we'll retire to
a table set in the shade of the farm, eat our lunch, drink some wine, and I'll answer any further questions that may have arisen while we cooked. You'll leave empowered and inspired to return to the kitchen, ready to practice your skills, refine your knowledge, and looking at food with a whole new perspective.
Class size will be limited to 15 people in order to ensure that all students have a hands-on experience. To reserve a spot, please use the following links: